Support ELWA Radio!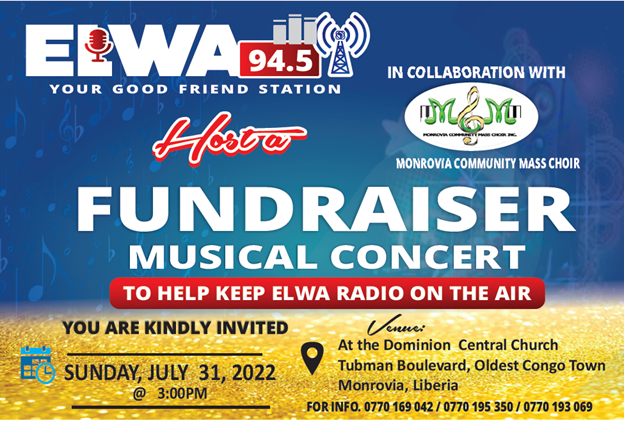 ELWA Radio is in the midst of its annual fundraising drive. ELWA Radio is free for all, but we are calling on our supporters and friends to help us raise the funds that are needed to stay on the air. Some of the programs heard on ELWA Radio have sponsors who pay for the airtime but many favorite programs are not supported. The annual fundraiser helps fill in that gap.
Supporting ELWA Radio is like giving to a missions project. ELWA Radio reaches the entire nation of Liberia and parts of Guinea, Sierra Leone, and Ivory Coast because it still broadcasts over shortwave. That means that over 5 million people could be hearing the good news about the blessed life in Jesus every day! For some, ELWA Radio is the only station they can receive to hear any news of the outside world, and the only way they might hear the gospel in their first language. God has used ELWA Radio programs to save marriages, inspire new missionaries, encourage the downhearted, and teach pastors who cannot go to seminary. With a literacy rate of only 55% in Liberia, some people might not be able to meditate on the Word of God every day without ELWA Radio.
ELWA Radio broadcasts over 6000 hours every year, at a cost of about $20 per hour. Help us reach the goal of funding half those hours in 2022. Be a part of the Kingdom work that continues through ELWA!
There are many ways to give! Sponsor one hour for $20 or more if you can!
Use this link to give through SIM-USA: https://www.simusa.org/give?fund-code=P095115%20Project%20Gifts%20NonUS
You can also give via our Facebook fundraiser at this link: https://www.facebook.com/donate/1747701928911853/5574398252594522/
Finally, you can use the Sendwave app to give directly: +231-880-751-821
The main event of the fundraiser will be a Grand Concert sponsored by the Monrovia Community Mass Choir, at the Dominion Central Church on Tubman Blvd in Congotown. Tickets are available at ELWA Radio station or at the door. Promotional t-shirts and mugs will be available for sale as well.